Hey everyone!
I thought I'd do a Random Thoughts post on one of the most dysfunctional award shows of my generation; the VMA's. If you were fortunate enough to miss the VMA's and received a full night's sleep, I commend you. For those of us who decided to keep watching, hoping the show would get better, I feel your pain.  Here's a list of things that I wish I did not lose sleep over:
Suffering through Miley Cyrus' comedic debut – there is such a thing as comedic timing.
Suffering through Miley Cyrus' costume changes – just when you thought they couldn't get any worse..
The countless skits – who decided to write these and why?
Kanye's speech – Kanye for President 2020
Now there were also some parts that actually gave me life:
Nicki Minaj calling out Miley – although we still can't confirm whether or not this was real, but I'm praying it was
Nicki Minaj's performance featuring Taylor Swift – girl power at it's finest
Taylor Swift's squad – #squadgoals2016
The Weekend's performance – It felt very reminiscent of Michael Jackson and even got Kanye on his feet
Unfortunately, there were several people that I would have loved to see last night. But the one person who would have truly made my night was Rihanna. I could only imagine the expressions her face would have had at last night's show.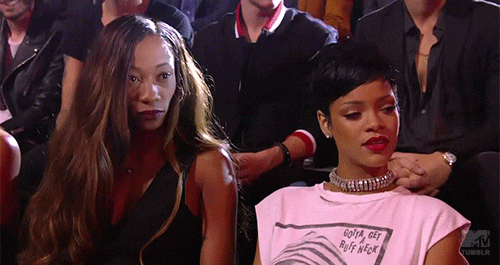 The side eye was too real.
What were some of your best and worst moments of last night's show? Leave your comments below! Until next time…